Best Seat Available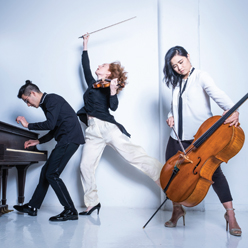 Merz Trio (LIVE-STREAM ONLY)
Curtis M. Phillips Center (Live-Stream)
– Sun, Oct 17, 2021 2:00 PM
UFPA Presents Merz Trio (LIVE-STREAM ONLY)
Winners of the 2019 Concert Artists Guild Competition and Gold Medalists of the Fischoff and Chesapeake International Chamber Music Competitions, Merz Trio combines artistic brilliance with a farcical lust for life.

The group will perform a program titled Ink Spills, which tells a unique and personal story around Ravel's Piano Trio, completed by the composer in 1914. Ink Spills also includes a number of works from the immediate decades around the Trio's composition, interweaving pieces that Ravel would have known and heard. Throughout the concert, Merz Trio's members will contribute readings of poetry and prose that further illuminate the music and speak to the era.
Curtis M. Phillips Center (Live-Stream)

3201 Hull Road
Gainesville,

US-FL

32611
US